I'm sure you've seen or heard of hoverboards by now. You know, those electric powered two-wheeled plastic decks that people have been ripping around lately? I've never actually ridden one, but I'd be lying if I said they didn't look like fun. They're not exactly the kind of thing you'd want to take to a skate park though… well, unless you do a bit of modification.
Shaun McBride, better known as Shonduras, decided to see if he can find a way to ride a hoverboard in the skatepark. Using some scrap metal from lawn mower blades, Shaun stabilized the deck of the hoverboard before attaching trucks to the bottom. The result is a frankenstein combination of the two that looks super awkward to ride.
There's no way that he wasn't going to try and shred it, though, and that he did. After eating it a few times, he eventually gets the hang of it and starts to get comfortable. He does some carving around and even gets a bit of air coming out of the bowl, which was hilariously awesome.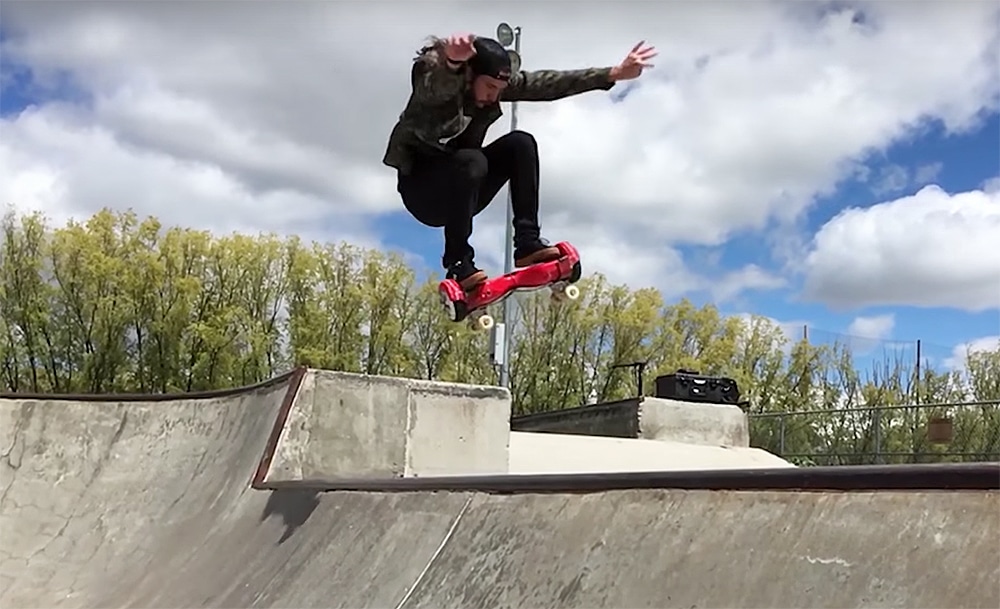 On his YouTube channel, Shonduras has a bunch of other homemade skateboard modification videos in which he makes decks out of various other things. One he posted recently was a scooter/skateboard combo he made by attaching some skate trucks to a scooter deck. Am I sensing a new sport perhaps? Probably not. But maybe… but, probably not.
Anyways, if you've got a hoverboard lying around that you don't use anymore, why not make a skateboard out of it? Even better, grab an actual skateboard and come to one of our many Evolve skateboard camps!