This story is nuts, and gives us all a bit of a wake-up call about Snowboarding Safety. Read this unbelievable story about how this snowboarder survived one of the Mountain's worst hidden weapons!!
Charmonix-Mont Blanc is a snowboarder's paradise located at the junction connecting France, Switzerland, and Italy. This powder seeker's utopia is nothing short of an adventure. Mont-Blanc features the highest summit in all of the Alps as is renowned for its alpine skiing and its scenic panoramic views.
Brandon Kampschuur is an action sport extremist who found himself amidst the Mont-Blanc mountain peaks back in February of this year. Brandon's expedition into this the snowy dreamland turned into much more than just a wicked snowboarding trip, like he had planned.
Brandon was boarding off-piste on the Glacier des Rognons with an alpine guide when he fell into a deep crevasse. He landed on a snow bridge 50 feet below the surface that he was carving over just seconds earlier. Brandon landed on one of the only stable snow bridges in the crevasse, while falling just a few feet away could have left him buried even further under the snow. He suffered only very mild injuries and the guide he was riding with found him in under 20 minutes. A rescue team was called and he was back on the surface within 45 minutes of his threatening fall.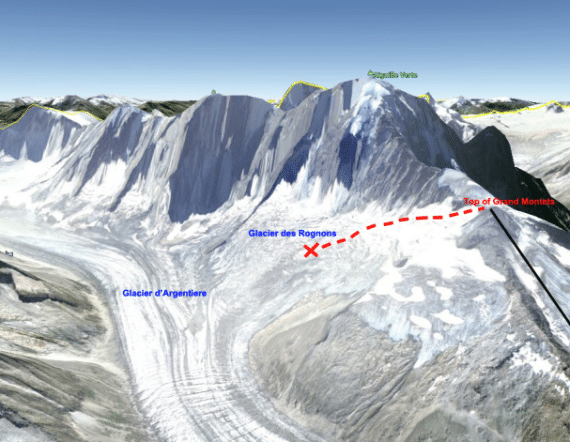 Brandon caught the action on his camera!! Check out the video here.
Check out his rendition of the event here. Brandon gives some great advice on how to look out for a glacial crevasse, and offers a whole gallery worth of photos about the escapade.