Hey all you skateboarders out there looking to get some information on the skatelife around your community! Check out our comprehensive guide here! We'll be posting up information from a new region every week so keep checking up here for information about the skateboard world around your area! When we post information about your skate-zone, we want YOU to help us. This week –Mississauga is the fourth one up! Email us at info@evolveskate.com if you've got any information we should add into the directory!
SKATELIFE MISSISSAUGA
Skatepark Directory and Reviews
What are the best skateparks in the Mississauga area? We give you the laydown here.
Iceland Skatepark (Hershey Centre)
Evolve Snow Camps is an avid fan of this skatepark. We come here regularly during our skatecamps and that's because it is one of the best parks around. It is one of the most well maintained parks, as well as Mississauga's biggest. Want to see what the park looks like? Take a looks at this Evolve Skate Camp edit https://www.youtube.com/watch?v=c-TOovExhHk
Indoor/Outdoor: Outdoor
Lights/Hours: 24/7
Surface: Concrete
Caters to: Designed for Skateboarding, caters to all
Supervised:
Features: ledges, rails, boxes, stair sets, banks, kidney bowl, streetcourse, quarterpipe,
curb
Address/Directions: South side of Matheson, west of the 410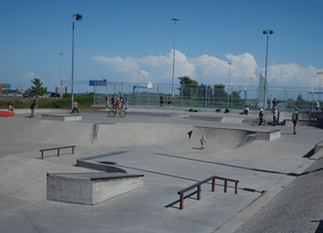 CBMK Skatepark
This is Mississauga's only indoor skatepark and has been around for over 10 years.
Hours: Monday to Friday 9 – 5
ProShop On Site: Yes
Address: 2390 Haines Rd. Unit #17 and #18
Contact: 905-272-9911
We want to know more about this park Do they require padding? What features are there? Let us know by emailing us at info@evolveskatecamp.com
Skateboarding Stores and Reviews Missisauga:
Gravity Board Sports
gravity Board Sports is the place to go for skate-style gear. They are located in the
Lakeshore strip mall and have all the top bands in-store.
Address: 724 Lakeshore Rd E, Mississauga, ON L5G 1J6
Contact: (905) 278-5928
Zumeiz
Zumeiz is not skate-specific, they have a little bit of everything between snow, skate and
fashion. They have a new location in Square One. Check out their website here:
Interested in reading more about the best skateshops in Mississauga? Check out this awesome article on insauga.com. They discuss the gear available at West 49 and Boathouse as well as Gravity and Zumiez:
http://www.insauga.com/best-skate-style-shops-in-mississauga
Online Forums:
Where do you all congregate online? We want to know! Help us out and send up an email!
Hidden Skate Spots:
Now this is key! Shoot us an email and fill us in so we can help other skaters of the area practise their skills!
If you have any information regarding the skatelife in the Mississauga Region please
email us at info@evolveskatecamp.com