Hey all you skateboarders out there looking to get some information on the skatelife around your community! Check out our comprehensive guide here! We'll be posting up information from a new region every week so keep checking up here for information about the skateboard world around your area! When we post information about your skate-zone, we want YOU to help us. This week — Aurora is the first one up! Email us at info@evolveskate.com if you've got any information we should add into the directory!
SKATELIFE AURORA:
All the information you need regarding the freestyle skateboarding world of Aurora, Ontario.
Skatepark Directory and Reviews
What are the best skateparks in the Aurora region? We give you the laydown here.
Aurora Skatepark – Permanent/Outdoor
The Aurora Skatepark is a pretty solid place to skate if you live in Aurora and want to hang with the town's best freestyle talent.
Indoor/Outdoor: Outdoor
Lights/Hours: No lights
Restrooms:  No
Concession: Let us know! email us!
Required Padding: No
Surface: Concrete
Pro Shop on Site: No
Cost: 0$
Supervised: No
Features: We want your feedback! What features are in this park?
Address/Directions:
Watch out! Google Maps may throw you off, the actual park is located on Conover Avenue,just off of River Ridge Boulevard. It is off of Bayview, beside Hartman Public School.
Send us an email at info@evolveskatecamp.com for any updates to this info. We need your pictures too!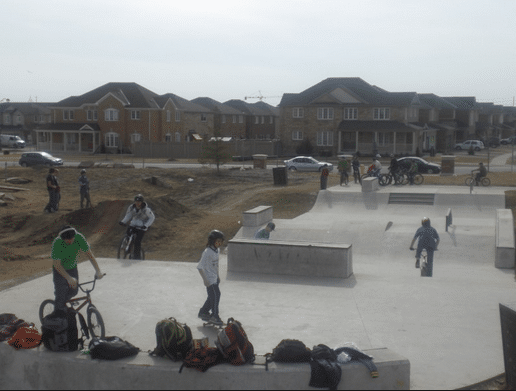 Flipside Skateboard Park – Mobile (Not Permanent)
The Flipside Skateboard Park is a unique concept – A mobile skate park with multiple locations in the town of Aurora. The park takes approximately 20 minutes to set up and only requires a paved surface (about the size of a basketball court) for it to be up and running. It is a smaller scale, non-permanent skatepark.
Indoor/Outdoor: Indoors
Hours:
           Monday to Friday 12 – 5 pm (Summer)
          Saturday and Sunday 12 – 4pm (Spring/Fall)
          Tuesday and Thursday 4 – 8 (Spring and Fall)
Restrooms: depending on location
Concession: depending on locations
Required Padding: Helmet mandatory, padding recommended
Surface: Plastic and Wood
Pro Shop on Site: No
Cost: We want your feedback! Does it cost anything to skate here? Email us!
Caters to: All
Supervised: Yes
Features:
quarterpipe
flatbank
flybox
grind box
2 grind rails
consistent incline ramp
Address/Directions
    Current site locations:
        Fleury Park
        Wilson Park
        Aurora Community Centre
        Aurora Leisure Complex
Location information and Dates posted at Aurora Community Centre Arena #1 from July 4 to September 2.
Contact: 905-726-4760
Send us an email at info@evolveskatecamp.com  for any updates to this info. We need your
pictures too!
Hickson Park
This skatepark is a busy hub which came to life in the spring of 2013. It was a communal effort which brought members of the Aurora township together. Located on the East side of  town, this skatepark is great for a daytime session.
We need your help! Tell us what you know about this skatepark so that we can provide up to date information on the parks offerings. Email us at info@evolveskatecamp.com  if you have any information. We want to know: Is this skatepark indoor/outdoor, does it have lights for night sessions, any fee, restrooms nearby? etc.
Skateboarding Stores and Reviews Aurora:
Hold up! Spuds closed at the end of summer 2013. Sorry folks 🙁
Zumeiz is not skate-specific, they have a little bit of everything between snow, skate and fashion. You have to hope over to Newmarket Upper Canada Mall for this one though.
Check out their website here http://www.zumiez.com/

Looking for cheap, good quality used sports goods? Go to 15480 Bayview Avenue.
We still want to hear from you regarding the best shops to check out! Let us know by emailing us!
Online Forums:
Where do you all congregate online? We want to know! Help us out and send up an email!
Hidden Skate Spots:
Now this is key! Shoot us an email and fill us in so we can help other skaters of the area practise
their skills!
If you have any information regarding the skatelife in Aurora please email us at info@evolveskatecamp.com