Blunt/Envy
The BLUNT/ENVY brand is bringing some of the best videos to the Freestyle Scootering Community.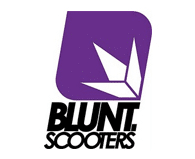 Known as "Blunt"  in Europe and "Envy" in Australia and North America, this innovative company aims towards bringing high quality scooter parts to this niche community.
The company has gained recognition for more than just their products for purchase, they've paved the way for Freestyle Scooter cinematography worldwide.
Blunt/Envy Scooters has been recruiting all star teams and producing ground breaking video content. Their impressive, though edgy, content has caused them to become a recognizable name for high quality shorts.  Their youtube channel, under the name bluntscootersTV, has gained traction in the past 4 years with upwards of 200 000 views on some videos on their channel. They are entering into new territory and breaking the molds of past Freestyle Scooter video footage.
https://www.youtube.com/user/BluntscootersTV