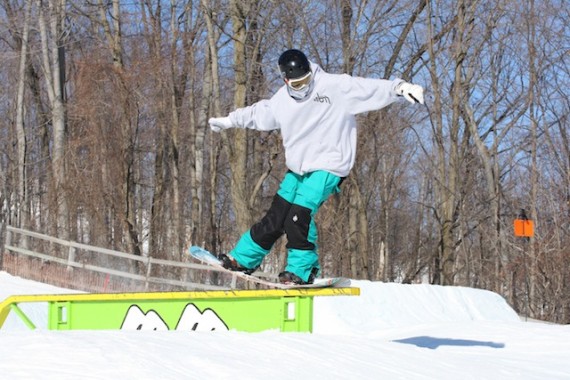 Contact: Daniel Rinzler, Evolve Snowcamps, daniel@evolvetours.com 416.619.4521 or
Sam Marcotte, Simple Snowboarding, sam@simplesnowboarding.com
FOR IMMEDIATE RELEASE
Evolve Snow Camps Partners With Simple Snowboarding
Toronto, Ontario – Evolve Snow Camps is proud to announce Simple Snowboarding as its official developmental and strategic partner for the 2011 winter seasons.
The partnership will introduce a whole new level of coaching and instructing in the youth ski and snowboard scene in Ontario.
"Partnering with Simple allows our campers to enter our program at any of our levels either Evolve Freestyle or our Grass Roots Camp, and progress up to the Simple level, which is high end coaching for Skiers and Snowboarders looking to compete and take their skills to a new level…said Evolve Snow Camps Director Daniel Rinzler.  "Essentially we are creating a system that allows young skiers and snowboarders to progress at various levels" added Daniel
"Simple has developed its own unique coaching system that has allowed many of its current top athletes, like Mikey Ciccarrelli, Trevor Niblett and Samm Denena to finish in the top 3 at various international snow events" Said Sam Marcotte, Simple Director. "Evolve Snow Camps is not geared towards top notch athletes, but Evolve participants will now have access to the best coaching possible for their level when they are introduced to Skiing and Snowboarding.  They will also now have a path to follow from the beginner stage, all the way through to the top of the sport." added Sam.
Evolve Snow Camps will be introducing their new program this year which is catered to beginner and intermediate skiers and snowboarders. Their program will continue to have coach transportation for kids in the GTA, including Oakville, Aurora and Newmarket. Both Evolve and Simple will also continue working at Mount St.Louis Moonstone.
"Kids in our program have always looked up to the Simple program and now its pretty simple to have kids Evolve into the top," said Rinzler.
Mount St.Louis Moonstones diverse terrain is perfect for any type of skier or snowboarder who comes through our programs.
"This partnership is just the beginning of what is to come in the future," said Elliot Catton, Head Coach at Simple.